Landline / Broadband Diagnostic Services – Tel 0800 014 1571
Get Your Landline or Broadband Fault Repaired by an Independent EX-BT Engineer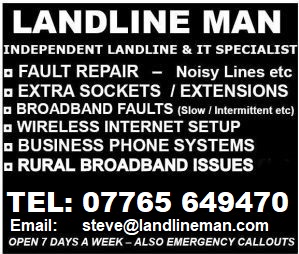 Landline and Broadband Diagnostic and Repair Services.
Get Your Landline or Broadband Repaired by an Independent ex-BT Telephone Engineer.
I can usually get to you same day or within 24 hours. If the fault is diagnosed to be outside on BT's network I will put a report in writing so you may confidently approach your supplier.
If the Landline Fault is repairable by us we can quote for this and carry out the work while I am on site.
Give me a call (or a text): 07765 649470
Landline and Broadband Diagnostic Services
Landline and Broadband Diagnostic ONLY — £49
I can provide a diagnostic service *only* if required, for example when a provider has stated they can find no fault on your landline or broadband, yet despite changing your own equipment, the fault persists. In this situation, using industry standard test equipment I can pinpoint the type and location of the fault down to within 0.1 meters. In this case it is important to keep a good record of your telephone call with your provider stating the fault is on your side, because if then my diagnostic report suggests the fault is on the provider side, you have a much better chance of recovering my diagnostic fee from your provider, usually by way of a credit to your billing.
If the fault is on your side, I can carry out a repair to your Landline or Broadband for an additional charge.
We accept all major debit / credit cards.
To book a Telephone Engineer call 0800 014 1571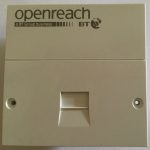 Telephone Engineer covering: Gloucestershire, Herefordshire, Malvern, Chepstow, Monmouth, Bristol, Bath, Somerset and more on request. Noisy line, no dial tone, slower than usual broadband, one single ring, no ring, intermittent broadband, wifi problems, humming on the line and more problems repaired or diagnosed. Get Your Landline or Broadband Fixed Today.